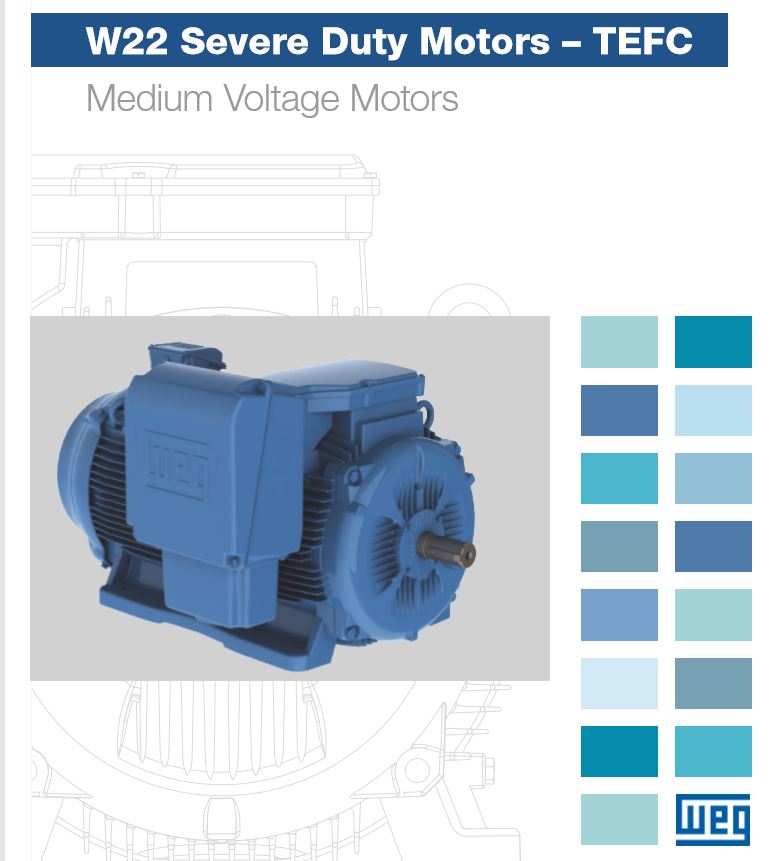 W22 Medium Voltage Motors – TEFC
Severe Duty
High performance with maximum energy efficiency is the goal of the new WEG electric motor. High efficiency and low cost of
ownership throughout the entire motor lifetime have been the basis for the W22 development. A design created to maximize
performance and energy savings.
Applications
Pumps, fans, crushers, conveyor belts, mills, centrifugal machines, presses, elevators, packaging equipment, grinders and more.
Standard Features
• 3-phase, 2, 4, 6 & 8 pole, 60 Hz
• Voltages: 2300V through 6600V
• Totally Enclosed Fan Cooled – TEFC (IP55) as per
NEMA MG1
• Squirrel Cage rotor / Aluminum die cast
• Frames L447/9, 586/7 and 588/9 are all fitted with WSeal®
• Ball Bearings
• Regreasable bearings with grease fittings on DE and NDE
• AISI 4140 high strength steel shaft
• Class "F" insulation for all frames
• Form Wound and VPI impregnation insulation system
• Temperature rise limited to Class "B" (80K) unless
otherwise indicated
• NEMA design "B"
• Service Factor: 1.15 unless otherwise indicated
• Continuous duty (S1)
• 104°F (40°C) ambient temperature
• Altitude: 3300ft (1000m)
• NPT threaded conduit hole
• Double Gasketed terminal box
• Field re-configurable terminal box (Mounting F1, F2, F3)
• Stainless steel nameplate AISI 316 with laser etching
• Paint: Synthetic enamel alkyd resin base (240 hours
minimum ASTM B117 salt spray test)
• Paint Plan: 203A
• Color: RAL 5009 – Blue
• Fitted with closed rubber drain plug
• 2 x RTD (PT100) per phase
• Plastic fan for 2 pole motors on frames L447/9 and 586/7
• Aluminum fan for frames L447/9 and 586/7 at 4, 6, or 8
poles and frame 588/9 on 2, 4, 6 and 8 poles
• Warranty – 18 months from manufacture date OR 12
months from delivery
• CSA Safe Area Certification provided as standard
Optional Features
• 50 Hz motors
• Space heater
• Bearing RTDs
• Roller bearings available
• Shaft: special dimensions, double shaft, tapered,
special steel
• Labyrinth tachonite seal available for all ratings
• Degrees of Protection: IP56(W), IP65(W), InproSeal
• Themostats, Thermistors
• Vertical Jackscrews
• Dowel Pin Provisions
• Additional terminal box
• Drip cover (canopy) for shaft down applications
• Cable glands
• NEMA FC Face and D flanges for all ratings
• Special painting plan or color
• VFD application available
• IEEE-841 compliant and nameplated up to and
including 500HP
• IEC Standard available
• CSA CUS Hazardous Area Certification available
Contact Eastland industries for more information on WEG Motors