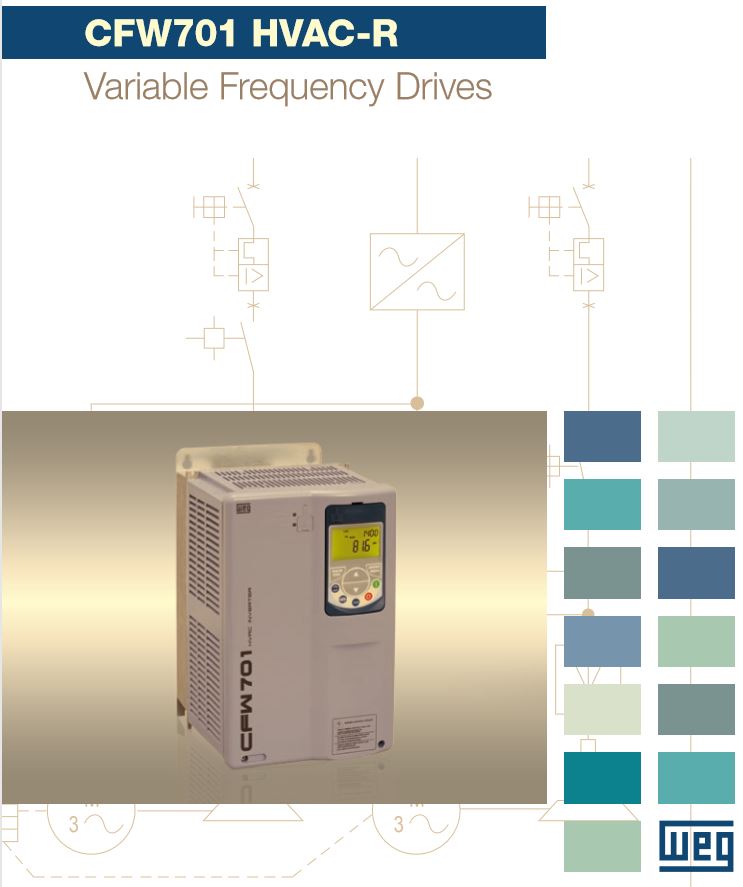 Features and Benefits
Power range: 1.1 to 132 kW (1.5 to 175 HP)
Single-phase and three-phase
Power supply voltage: 200-240 V, 380-480 V and 500-600 V
Scalar Control (V/F), Vector Control (VVW) and Open loop Vector Sensorless
Overload capacity: ND with 110% current or HD with 150% current in 60 sec.
RFI Filter built-in
DC link Inductor built-in
Ambient temperature up to 50 ºC (122 °F)
All the electronic boards are conformally coated classified as 3C2 according to IEC 60721-3-3 standard
Protection Degree IP20 and NEMA 1
24 V cd power supply board for control feeding (optional)
Flash memory module: In few seconds, it is possible to download the programming from a CFW701 to others without powering them up
Communication protocols: Modbus RTU, BACnet MS/TP and Metasys N2
Special features required for HVAC-R system applications
WLP and SuperDrive G2 free software
HVAC-R Technical Advantages
Special functions
RFI filter built-in
Low harmonic distortion
Conformal coated
3 built-in PID controllers

Communication Protocols as Standard

BACnet MS/TP
Metasys N2
Modbus-RTU

Flash Memory
Human Machine Interface
Free Software
WLP (WEG Ladder Programmer)
The WLP or "Weg Ladder Programmer" is a software that allows the user to program using ladder language, command and monitoring. It is a powerful 32 bits tool that grants you characteristics and functionalities to create professional applications through simple mouse clicks.
Software Superdrive G2
SuperDrive G2 is a tool for parameter setting, command and monitoring of drives. With intention to make the use of drives as easy and convenient as possible, the software provides user-friendly viewing, manipulating, and editing data with the drive. The data can also be stored and retrieved.
Applications
Hospitals
Airports
Malls
Stadiums
Schools and universities
Hotels and restaurants
Commercial buildings
Pumps and fans
Compressors
Condensers
Evaporators
Cooling towers
Boilers
Chillers
Contact Eastland industries for more information on WEG Drives