The EQP III MOTOR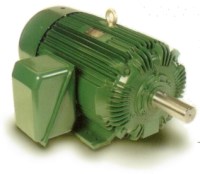 Toshiba's EQP III Motor Lines were designed and are being manufactured in the U.S.A. to meet North America's ever increasing need for IMPROVED energy conservation and product reliability.  Our inverter grade insulation system was designed to meet NEMA MG1 part 31.40.4.2.  This new insulation system provides even more energy savings.
Toshiba's Premium Efficiency Motors Mean Quality Inside & Out
CONSTRUCTION


• Cast iron frame and bearing brackets
• Stainless steel nameplate with bearing data
• Multi-mount construction
• Gasketed between motor frame and terminal box
• Laminations with 1000 degrees Fahrenheit burnout capability for long term repairability

INSULATION SYSTEM


• NEMA MG1 part 31.40.4.2 compliant
• Special varnish treatment
• Major components Class H
• Improved spike resistant wire
• Improved wire insertion process
• Less need for inverter output filters

PERFORMANCE


• Guaranteed 10% watt loss limit
• Slot geometries designed to optimize starting torqued and efficiencies
• Large thermal windows
• Flexible starting methods
• ISO 9001 certification
• Class B rise with Class F plus insulation system

BEARING SYSTEM


• Oversized bearings
• L10:100,000 hrs for direct drive
• Low temperature rise for lon lubrication life
• Cast iron bearing support
• .1 inch per second balance
• 210 frames and up have 300 series bearings D.E.